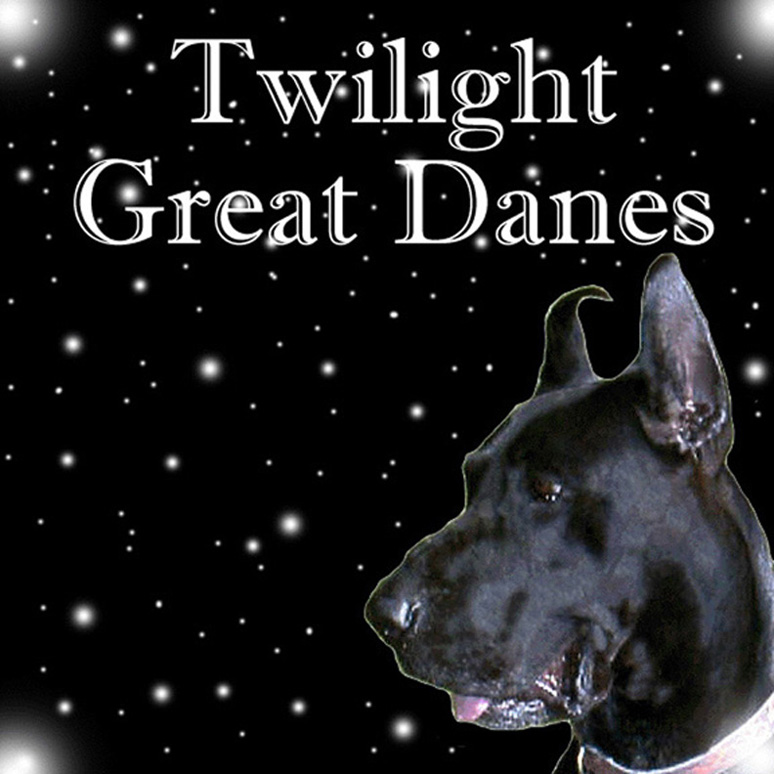 Yesterday's Legends* Today's Champions* Tomorrow's Legacy
WE SHOULD HAVE PUPPIES FOR THE NEW YEAR
Breedings have taken place for Patsy of Feasgar Farms and Oakley of Dusty Hollow Danes. Confirmed Pregnancy announcements will be November 26 with whelp expected December 24 for Oakley and confirmed pregnancy announcement December 12 for Patsy, due date January 10, 2022. More details of these breedings will be posted at confirmed pregnancy and opening of the selection lists.
The new stud in our program is a blue male from Potomac Run, out of Potomacrun's Rumor Has It. Named Potomacrun Twilight's Deuce Coupe, he is the last active member of our breeding program. His sire is Mafia's MGK Machine Gun Kaos. Kaos was our own Shadow's son. His Pedigree is posted on his page. He is still available for stud to approved females.
Twilight Great Danes is passing the torch to the next generation My son and his wife have begun the next generation kennel, to be known as Feasgar Farms LLC (Gaelic for Twilight). Their foundation girl is Feasgar's Black Magic Woman (Bailey), a black girl out of a black X merle breeding. Bailey's first litter was a cross with Potomacrun Twilights Deuce Coupe. Their foundation stud is Feasgar's Voodoo Magic, a harlequin male who is the son of Lady Harper Emmalene X Smith's Thor, from Twilight Great Danes. Their second female, also a black, is Feasgars San Antonio Rose (Patsy). She is the daughter of Bailey, from the Potomacrun Twilight Deuce Coupe litter. We have also agreed to mentor a new breeder, Dusty Hollow Danes, who is breeding on our lines. Her first litter from her foundation girl is also expected early June 2021. Feasgars Pistol Packing Mama ( Oakley) is a sister to Patsy, also from the Potomacrun Deuce Coupe litter. All our dogs can be found to the right under" Our Breeding Stock".
Many people ask about the longevity of Great Danes. We were saddened on May 16, 2017 to say goodbye to our oldest Dane, Twilight Baroness Kair Bear at the ripe old age of 13 years 2 months. Our experience in our lines are 10 to 11 years typically.
Many buyers have asked about pet insurance. I have no personal experience with this issue. All puppies come with AKC litter papers. AKC offers a 30 day free trial on their insurance as part of registering your puppy. However, I am providing an independent review guide as a service to help with this confusing issue.
http://www.reviews.com/pet-insurance

Also, a new link is being added to a pet insurance resource:
https://365petinsurance.com
Mary Roycroft